BB&T Pavilion (Formerly Susquehanna)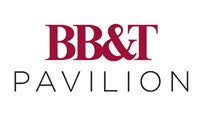 1 Harbour Blvd
Camden, New Jersey 08103
(610) 784-5426
Buy Tickets
Venue Details
- A to Z guide
***ATTENTION***
BB&T Pavilion STRONGLY encourages fans to not bring any type of bags, except those outlined below. Beginning this 2017 season, fans will be able to carry the following style and size bag, package, or container into the venue:
• One-gallon clear plastic freezer bag (ziploc bag or similar).
• Small clutch bags, approximately the size of a hand, with or without a handle or strap can be taken into the venue with one of the clear plastic bags.
• An exception will be made for medically necessary items after proper inspection at a gate designated for this purpose.
Please note that all approved bags will still be subject to search.
Prohibited items include, but are not limited to:
Purses larger than a clutch bag
Coolers of any kind
Briefcases
Backpacks
Fanny packs
Cinch bags
Luggage of any kind
Computer bags
Camera bags
Any bag larger than the permissible size
Weapons of any kind
Alcohol
Illegal drugs/substances
Glass containers
Cans
Laser pointers,
Animals (except service animals)
Fireworks
Wallet chains or spikes
Professional Cameras
Video or Audio Recording Equipment of Any Nature (including sports action cameras like GoPros)
Balls of Any Nature
Objects that Can Be Used as Projectiles such as Glow Sticks
Laser Pointers
Large Banners or Posters
Fans will continue to be allowed to bring in low profile lawn chairs that are no more than 9 inches off the ground and the seat back does not exceed 24 inches off the ground. Blankets & Small Tote Umbrellas are still permitted on the lawn as well. You are also permitted 1 (20oz) sealed water bottle per fan.
Due to Artist restrictions, permitted and non-permitted items are subject to change without notice. We regret any inconvenience this may cause.
Venue management reserves the right to add, delete and interpret the above policy for the safety of guests, artists, and staff.
For additional venue inquiries, please click here: https://www.livenation.com/venuesecurity/
UPCOMING EVENTS:

Mumford & Sons​ - May 25
Parking Lots open at 4:00pm
Doors open at 6:00pm
Weather
Click here for the current weather conditions and extended forecast.
All concerts at BB&T Pavilion are rain or shine.
Lundy Law Book Drive
The Lundy Law Library Express will be holding book drives this summer to benefit the Children's Hospital of Philadelphia. Book Collections will take place in front of the BB&T Pavilion between the two entrances in front of the administrative offices. Donate 4 or more new or gently used children's books, and get a free chair rental on the #LundyLawn. Learn more at www.LundyLawLibraryExpress.org
Book Drives will take place at the following events:
Train on 6/8
Florida Georgia Line on 6/17
John Legend on 6/22
R. Kelly on 6/24
Rod Stewart on 7/12
Foreigner on 7/13
Zac Brown Band on 7/14 & 7/15
Idina Menzel ​on 7/16
Chicago on 7/21
OneRepublic ​on 7/22
Straight No Chaser on 7/25
Boston on 7/27
Spoon on 7/29
Chris Stapleton on 8/12
Jimmy Buffett on 8/17
John Mayer on 8/18
Lynyrd Skynyrd ​on 8/19
Jason Aldean ​on 8/25
Matchbox Twenty on 8/26
TLC on 9/1
Sam Hunt on 9/15
IdentoGO
Visit the IdentoGO booth at select shows to sign up for TSA Pre✓® and obtain a Fast Pass by IdentoGO® for expedited entry into the venue, all season long! Bring your I.D. and birth certificate (or passport) to sign up! www.IdentoGO.com/livenation
Traffic
Please leave yourselves plenty of time and check for the latest traffic alerts before leaving. Click here for local traffic report.
Public Transportation
As an alternative to driving, you may want to take the Riverlink Ferry or NJ Transit's Riverline to the Camden Waterfront.

The Riverlink Ferry has extended hours for most BB&T Pavilion concert events. Extended operating schedule begins 2 hours prior to the concert. Ferry runs for about 1/2 after the end of the concert back to Penn's Landing. For more info and correct ferry schedule, please call 215-925-5456 or visit www.riverlinkferry.org.


Take PATCO to shows at the BB&T Pavilion:

From Philadelphia:

1. Get on at one of four stops in Philadelphia:
15th-16th and Locust
12th-13th and Locust
9th-10th and Locust
8th and Market

2. Get off at one of two stops in Camden:
City Hall Station – walk 3 blocks to the BB&T Pavilion
Broadway – walk 3 blocks to the BB&T Pavilion OR take NJ Transit River Line to Entertainment Center stop (SBC).

From South Jersey:

1. Get on at one of 7 stops:
Lindenwold
Ashland
Woodcrest
Haddonfield
Westmont
Collingswood
Ferry Avenue

2. Get off at one of two stops in Camden:
City Hall Station – walk 3 blocks to the BB&T Pavilion
Broadway – walk 3 blocks to BB&T Pavilion OR take NJ Transit River Line to Entertainment Center stop (SBC).


Due to the Ben Franklin Bridge Track Rehabilitation Project, there will be gaps in PATCO service. For more Information go to www.ridepatco.org
Parking
Lots are located at or near the facility.
Price is $30-$40 per car.
Credit cards accepted!
---
Alcohol
BB&T Pavilion has a wide variety of alcoholic beverages including over 95 Craft Beer selections, a variety of mixed & a wine bar.

Legends is committed to the responsible and lawful dispensing of alcoholic beverages at BB&T Pavilion. You must be age 21 or over with valid ID to purchase alcohol.
Concessions
There is a great selection of food and beverages available at BB&T Pavilion catering to all tastes.
Drinking Water
There are fresh water fountains located in both the Ben & Walt Lobbies and Plazas.
---
ATM
ATM's are located throughout BB&T Pavilion's lobbies & plazas.
Camera Policy
Personal cameras are allowed in the venue. Flash photography, video and removable lens cameras are not permitted without venue approval.
Lost & Found
BB&T Pavilion's lost & found is located right next to the entrance of the Walt Lobby.
Smoking
Smoking is allowed in the outdoor plaza areas, as well as the Lawn Seating Area. Please refrain from smoking in the Reserved Seating Area - as this is not a designated smoking area. The same policy applies for electronic cigarettes that applies for tobacco cigarettes and cigars.
Tailgating
We are committed to creating a SAFE environment that is fan friendly for all of our guests to enjoy. For most fans, tailgating is a time for listening to music while enjoying the company of friends and family. For your SAFETY and the enjoyment of all, we ask that you please help by observing these tailgating guidelines:

BB&T Pavilion parking lots are reserved for concert patrons only.
No open containers are permitted in parking lots.

Please be aware of your surroundings and make note of where you are parked. Please be careful and mindful of all vehicle traffic while in the parking lot especially while your row is being parked.

Parking is first come-first served. No saving of parking spaces is permitted.

Occupy only ONE parking space per vehicle.

Guests must tailgate in front of or behind their vehicle only. Tailgating at your vehicle should not interfere with the normal traffic flow. Please see the diagram below for an approved tailgating set up.

All tailgating activities must be conducted in accordance New Jersey State law and City of Camden Municipal Code MC:1017 and MC:129-22. Underage drinking is prohibited by law and minors in possession will be addressed aggressively by Camden County Metro Police, Camden County Sheriff's and National Event Services event staff.

NES Parking Lot staff will continuously patrol the lots to provide information (door times, show times, etc) and assistance and to ensure that guests comply with the established tailgating guidelines. This staff will be dressed in bright yellow

No tents or canopies will be allowed in order to keep the drive aisles clear for traffic flow and emergency vehicles.

All guests will be encouraged to enter the facility at the start of the advertised show time. For event specific information, please call 856.365.1300.

Please clean up your tailgating area before entering the show. Bring trash bags with you to dispose of trash. Trash and recycling dumpsters will be placed throughout the parking lots, please refrain from leaving loose trash and litter in the parking areas.

Generally, the parking lots will open and tailgating will be allowed to start 2 hours prior to the door time, however, parking lot opening times may vary for some concerts.

Tailgating will shut down when the doors to the facility open. Guests will be asked to enter the show or leave the parking lot. Tailgating is not allowed after the concert. All parking lots will be closed at the conclusion of egress.
Re-Entry
Re-Entry is not permitted at BB&T Pavilion.
Will Call
Will Call is available DAY OF SHOW only with the credit card used to purchase the tickets plus photo identification and Ticketmaster confirmation number.
Children
Concerts: Children under 2 years are free if they sit on a parent's lap.
Family shows: all children over 1 year old need a ticket.
Medical Assistance
First Aide & Medical Assistance is located right next to the entrance of the Walt Lobby and in the back of the Walt Plaza.
---
From the New Jersey Turnpike: Get off at Exit 4 and proceed onto Route 73N. Go 1/2 mile to Rte. 295S. See signs for Ben Franklin Bridge - Rte 676. Take Rte 676 to Exit 4 Atlantic Avenue or Exit 5A (Mickle Blvd/Martin Luther King Blvd.). Follow signs to Camden Waterfront & the venue. From the Atlantic City Expressway: Take the exit for I-676 and follow directions westbound. From the Garden State Parkway: (1) Take GSP to AC Expressway. (2) Take I-195W and then south on NJ Turnpike to Exit 4. From Pennsylvania: (1) From points south: I-95N to Philly, follow signs for I-676E and Ben Franklin Bridge/Camden. (2) From points north: I-95S to Philly, use Historic Area exit (2nd & Callowhill Sts). Follow Callowhill to 6th St and see signs for Ben Franklin Bridge/I-676.
Box Office opens 1 hour prior to show during the indoor season and 1 1/2 hours prior during the outdoor season
Lots are located at or near facility. Price is $30 & $40 per car.
CashVisaMasterCardAmeX
For Group Sales – 610-784-5426
Will Call is available DAY OF SHOW only with the credit card used to purchase the tickets plus photo identification and Ticketmaster confirmation number. Same Day Orders: Up to 3pm Day of Show through Ticketmaster phones, or may be purchased at any Ticketmaster outlet or Facility Box Office.